This travel post is written by Candice who blogs at
MissusTay.com
. She spent a weekend at Sentosa with her husband and her petite travellers, master T (3 years) and missy T (2 years) in August 2014.
This holiday is suitable for parents who are stuck in Singapore for whatsoever reason but need to bring the kids for a quick getaway.
Sentosa today is known as The State of Fun. The number of attractions, hotels, and dining places that have sprouted over the last few years has provided many options of fun and leisure activities for all ages. Just look at what they have to offer on their
website
– an overwhelming list! Sentosa island is definitely a place to consider if you need a really short getaway but unable to go for an overseas holiday.
Here's what my family of four did with a 2D1N stay at Sentosa...
We booked ourselves an overnight stay at
Rasa Sentosa Resort & Spa
. The usual check-in time at the hotel is about 3pm. But that doesn't mean the fun only starts in the afternoon!
First on our itinerary was
Universal Studios Singapore
(USS). The kids ha
ve
never been to any Universal Studios before and were excited to meet the characters from Madagascar and the Minions!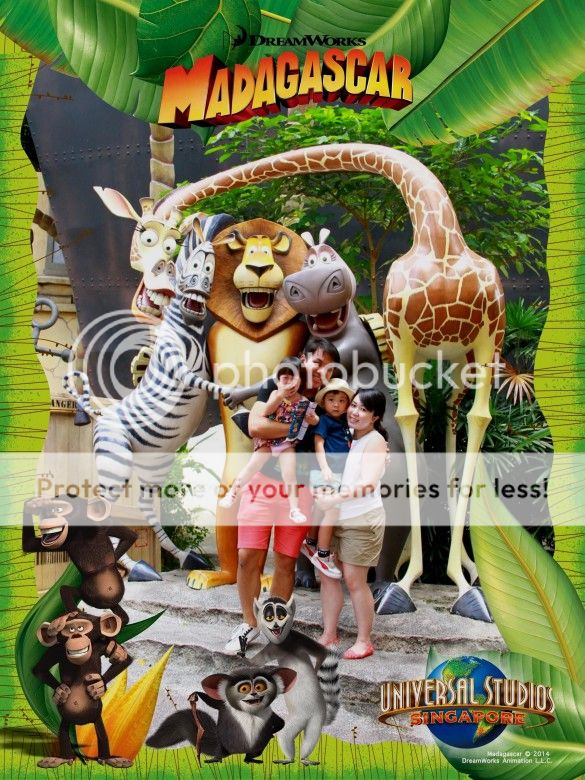 The size of USS as compared to many theme parks in other parts of the world is relatively smaller, which works well for those of us with younger kids who cannot function well without their naps (read: MELTDOWNS).
Alternatively, you can pick a hotel from one of those inside Resorts World Sentosa and you can head back to your room for a short rest before returning to USS for more.
The kids were running low on energy by the time we were done with our walkabout around the theme park and lunch. As expected, it was nearly time to check in at the hotel too. ;) The plan was to let the kids take a short nap before we start on our next round of play with them but they redefined my definition of short nap by resting only during the car ride from USS to the hotel. Clearly, they were too excited about the staycation!
We wasted no time then. After they were done checking out the room, we upped their excitement with water play in the pools.
There was cold water served near the pool area, and hotel staff going around serving fruits to guests as well. Love the extra touch! It took A LOT of effort and time to convince the kids to leave the pool. So if you have made any prior dinner plans, start early!
There are plenty of kid-friendly dinner places around the island, so take your
pick
and you have Day One settled!
Wake up to a gorgeous view of the South China Sea and sunrise on Day Two. It's easy to forget you're in Singapore with such an idyllic setting.
I love having breakfast at Silver Shell Café and would always request for outdoor seats. Very unlike me, if you know me personally!
The kids got to see up close the free-to-roam-around-the-island peacocks that would come by while we have our breakfast.
I like that the restaurant has a children's buffet section that is scaled to their height. And they have a pretty wide selection for the kids - main dishes, salads, sandwiches, fruits, marshmallows, gummy bears and local biscuits. (
I know how some parents are rolling their eyes at gummy bears but it's a HOLIDAY! Just gotta close one or both eyes. These may come in candy, erm I mean handy!
)
Post-breakfast, it was time for the beach. I love the location of Rasa Sentosa because the beach is literally steps away from the hotel. The convenience is AWESOME. 'Nuff said.
When we are done with sand play, we walk back to the pool for more water play. Non-stop fun! I love that we don't have to rely on the TV at all. (What TV?) Little wonder why the kids are still hounding us every day to bring them back to the hotel. (And I've been hounding the husb too, heh.)
Checking out at noon means that you can also plan for another activity or two before heading home. I would suggest somewhere indoors like the
S.E.A. Aquarium
or the new
Trick Eye Museum
since you would have chalked up much UV exposure from the past two days.
There are plenty of things to do for different kinds of getaways at Sentosa. What's your favourite activity or hotel there? Do share it with us by leaving a comment!
Have loads of fun this school holiday!
Read our other posts on Rasa Sentosa Resort & Spa here:
http://www.lifestinymiracles.com/2014/05/sunday-lunch-the-way-it-was-meant-to-be/
http://www.missustay.com/blog/2014/09/13/celebrating-32-family-staycation-at-rasa-sentosa/
http://www.missustay.com/blog/2012/10/22/weekends-staycation-at-rasa-sentosa/