This travel post is written by Karen who blogs at
Mum's calling
. She re-located with her family to California for 18 months from 2012 to 2014 during which her husband furthered his studies. During their stay in Monterey, they spent some time exploring various attractions in the different states of America and there wasn't a trip done without their petite travellers Jazzelle (then 4 years old) and Jareth (2 years old). While America is a gem with lovely theme parks and natural beauty, Hawaii was one of their most memorable trips. They spent a week in Hawaii.
Aloha! We have set foot in Hawaii, Oahu!
We spent about a week in Oahu and Big Island in Hawaii, and unknowingly had our skin tanned a few shades darker. The weather is totally like Singapore: hot, but not as humid.
Why Hawaii stole our hearts:
1. Authentic and delicious Japanese food! Oahu is populated with loads of Japanese visitors. We were more than once mistaken as Japanese ourselves.
2. Beautiful Ocean view! The shiny clear blue ocean with its different hues of blue made the view absolutely breathtaking. The gentle and strong waves sweeping onto the beaches made everything even more spectacular.
3. Rainbows! We see them everyday, the single, the double and the full bow. After every drizzle, all we needed to do was to look up to spot one.
4. You encounter different landscapes on different parts of each island. The
windward
side of the island presents a world with lush mountains and pristine beaches while the landscape of the leeward coasts is mainly dry. Many towns are found on the leeward coasts of the Hawaii islands, especially on with Oahu.
Day 1
We visited the
Swap Meet and Marketplace
upon collecting our car. This is a place where goods are sold cheaply, as compared to retail stores. Here is where you can get souvenirs like crafts, accessories and clothing. It is also a great place to taste their local fruits and snacks.
A place like this was a test of my bargaining skills. I bought a hat, but other than that, we walked off almost empty-handed, save for a taste of shaved ice. I do think our Singapore ice kachang tastes better though.
Looking like our pasar malam
Shaved ice
Thereafter, we drove off to stroll the streets of Honolulu. Kalakaua Avenve reminded me a lot of our very own Orchard Road. It was a long stretch with branded shop after branded shop, all open till late at night. I could even shop after the kids went to bed if I wanted to, but as much as my strength and body were willing, money was the constraining factor. Sleep seemed like a better choice.
Day 2
We drove eastward, past Diamond Head and looped the island in an anti-clockwise direction to do some sightseeing, stopping at various viewpoints along the coastline to get a good dose of Hawaii's natural beauty. It took us about 1.5 hours of driving via HW72 to HW83 before we reached
Kualoa Ranch
, a place where various movies (
Jurassic Park
,
Lost
and
Godzilla
) had been filmed. The scenery was beautiful but I didn't think it was extremely impressive as compared to the
Pacific Coastline at Monterey
(CA HW1 route).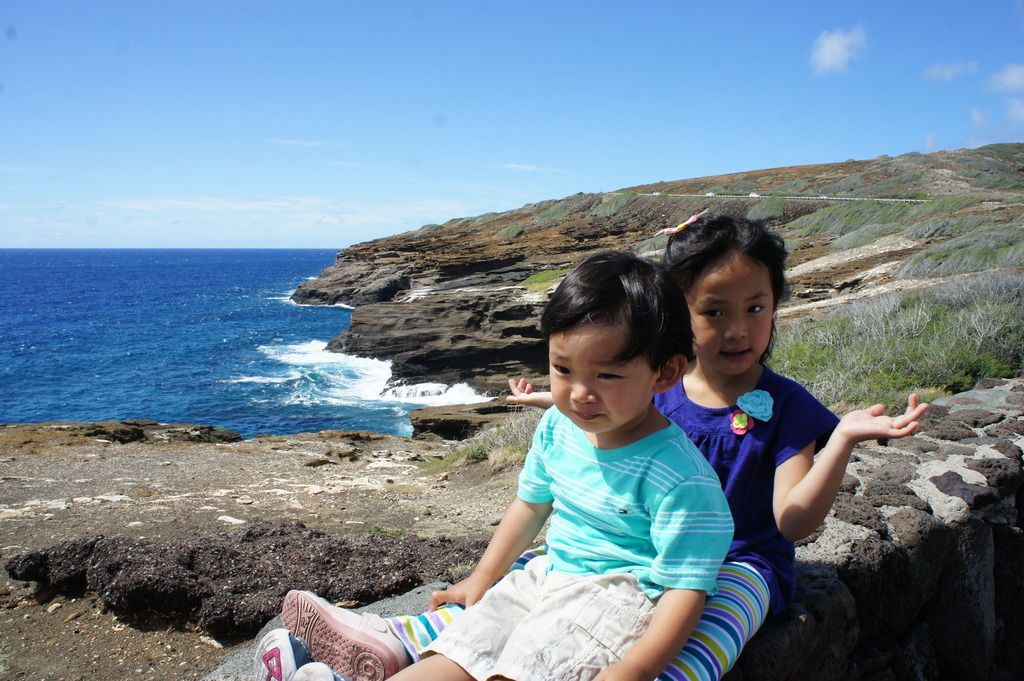 Awesome ocean view!
Site where Jurassic Park was filmed
We ended our day with a luau show at
Paradise Cove
. It took us another 1.5 hours to travel there but we were happy to experience the authentic Hawaiian culture and food. Hawaiian food is superb! I'm already missing it. Such a thing is very touristy, but we didn't mind and enjoyed it for what it was. The Js happily followed when other kids and volunteered to be part of the hula dance performance on stage.
Traditional hula dance
Day 3
We visited
Pearl Harbor
, a short drive from Waikiki beach, and gained more knowledge about WW2.
Pearl Harbor is a must visit if you ever set foot on Hawaii. It was a rare opportunity for us to explore the submarine
USS Bowfin
(nicknamed the Pearl Harbor Avenger) and also the battleship
USS Missouri
, where the Japanese signed the official instrument of surrender. USS Missouri was also featured in the movie, Battleship. If you wish to visit the
USS Arizona Memorial
, my advice is to reserve your tickets online or go down early to queue. Tickets are limited and can be snapped up fast. I must say the Pearl Habor historic sites really captivated me. It felt like it was a trip back in history and I was totally immersed in the experience. Be prepared to spend an entire day here.
Real artefact from WWII
Day 4
Hawaiian pineapples! We visited the
Dole plantation
on the northern shore of Oahu island, for the complete pineapple experience. While there is nothing much to rave about this place, we had great fun in
Dole Plantation's Giant Pineapple Garden Maze
, which in 2008 was declared the world's largest maze. The Js loved the challenge, and I loved indulging in my pineapple fruit and ice-cream.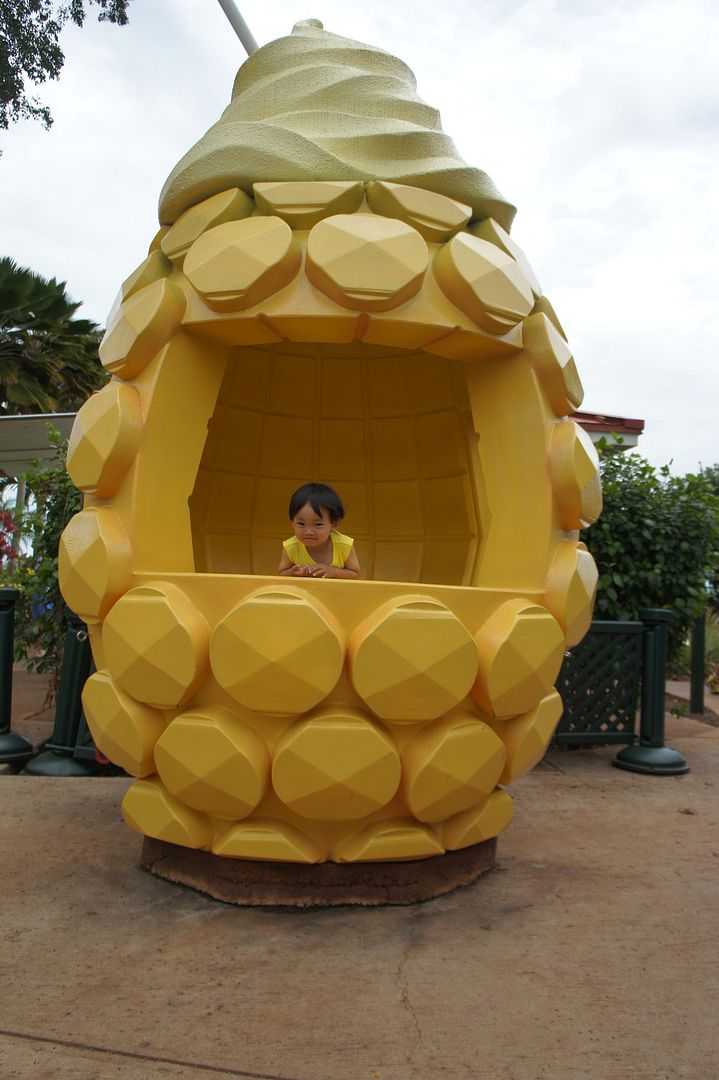 Ice cream surprise!
In the evening, we drove to Laniakea Beach (further north along HW99 to HW83) to catch sight of sea turtles. I found it interesting that the locals knew the names of these turtles that came onshore!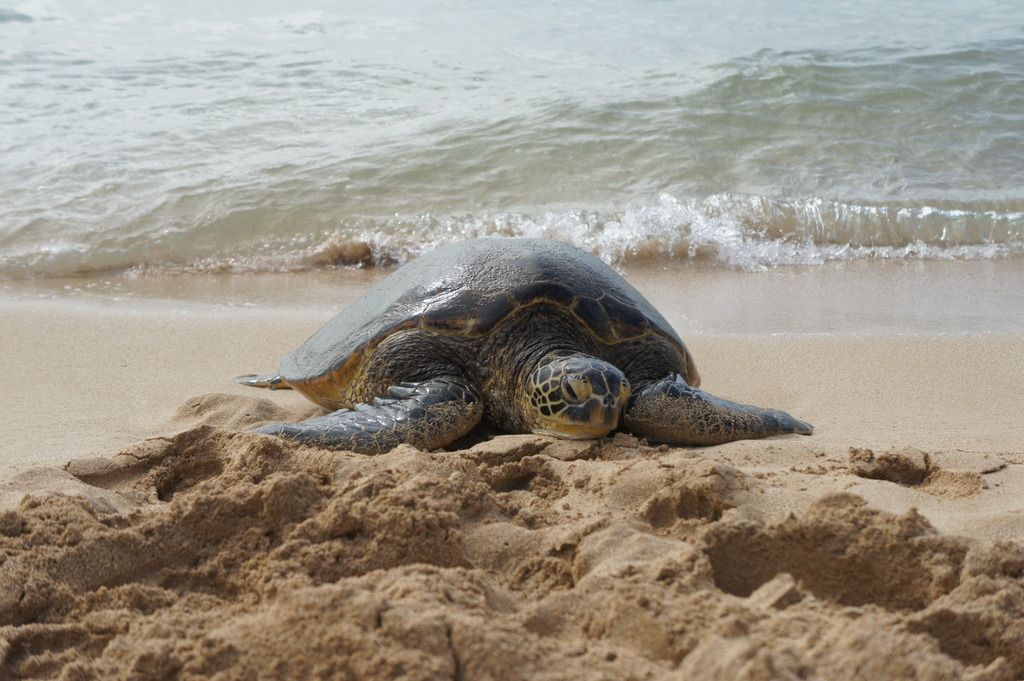 Envy their slow paced life
We completed the day with a drive clockwise to complete the loop around Oahu island. Along the way we experienced a sudden shower and plenty of rainbows. Guess it's no wonder that one of Hawaii's nicknames is Rainbow State!
Day 5
As we were staying in a hotel just opposite the world famous Waikiki beach, it was impossible for us to not get into the blue salty water before bidding farewell to Oahu. The Js had been pestering us for beach play, and we had to make it happen. Luckily for us, our thoughtful friend brought some sand tools along for the Js. Do remember to pack some along if you plan to have some fun on the beach.
I had reservations about the kids playing in the open water, but I knew we must do it! I believe if you have too many inner reservations, you will miss out on life. I would recommend going to Kuhio beach which is beside Waikiki beach as this beach has breakwaters built to form a lagoon and the waves are gentler. We found the waves here really exciting to play with. Jareth was initially afraid, but got hooked on playing with the waves after we demonstrated how fun it was.
I really love the moments we shared that sunny morning! With everyone were involved together with no distractions and no individual play, we really enjoyed some quality time as a family.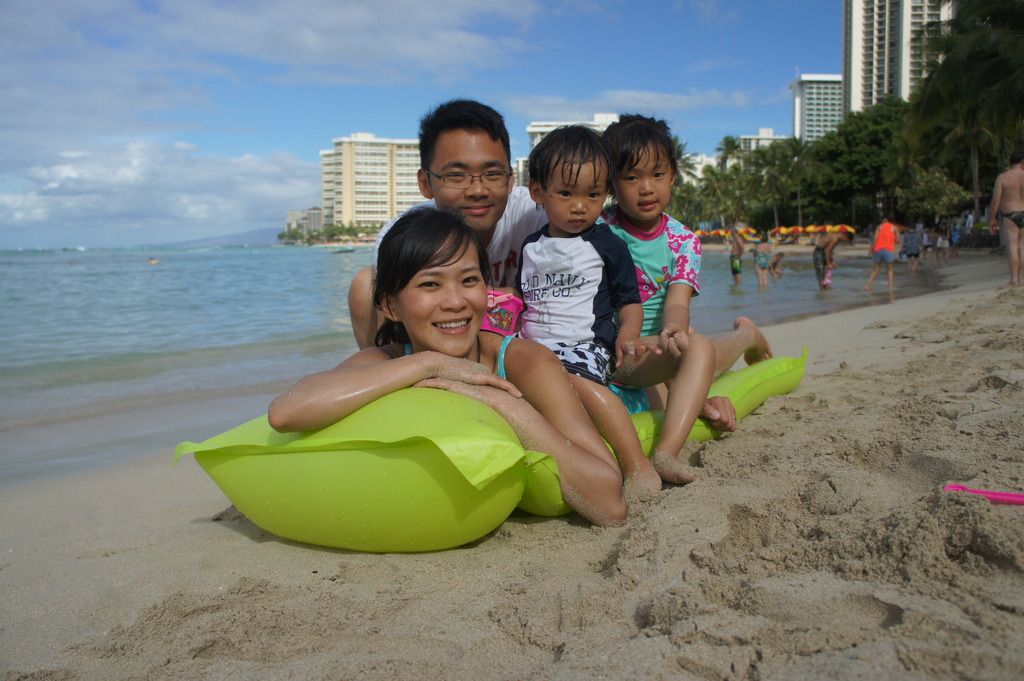 Beach Fun
On the same day, we took a short flight to the Big Island. It is usual to fly to get from one island to another and there are plenty of flight options available.
Day 6
How can we miss the volcanoes in Hawaii?!! This was the reason we came to Big Island, home to two of the world's most active volcanoes. Visiting the
Hawaii Volcanoes National Park
does take some planning as the park is situated on the east side of the island near Hilo, but the west side of island is generally more pleasant and offers more options for accommodation. Big Island, as its name suggests, is the largest of the Hawaiian islands and driving from the west coast to the east coast of the island takes a good 2.5 hours one way. So one option could be to fly into Kona International Airport and out of Hilo International Airport or vice versa to save on travelling around the island.
Back to volcanoes, we visited near night time and saw glowing red orange lava! It was a pity that we couldn't catch flowing lava but I guess there's a season for everything. Still, it was awesome to not just read about volcanoes on Geography textbooks but to actually see one in action. Do check the
National Park Service website
for the latest updates on the ground conditions and status of lava flow as well as road closures before visiting.
We took many great pictures with volcanic sights and rock, but we had to be really cautious while walking on the volcanic rocks. They were very rough and it hurts just to press your palm down on them. I constantly feared for my wriggling Js as one careless move could easily cause an abrasion and a storm of crying.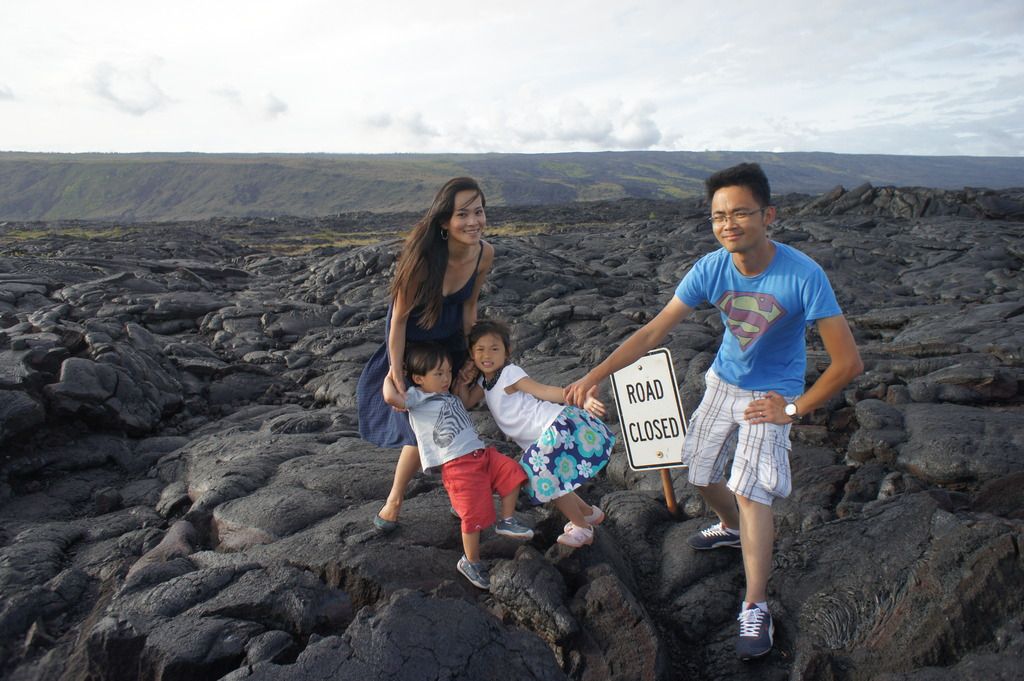 'Road Closed' sign was covered by lava flow
Day 7
We took a drive up
Mauna Kea
, about 10,000 feet above sea level to watch the sunset and star gaze. Verdict: It was truly awesome! We were totally wowed when we stepped out of the car. Never before have we seen such clear sky with millions, trillions of stars. Believe it or not, we even saw the milky way! We also identified planets with the help of the telescopes at the Visitor Station of the Onizuka Center for International Astronomy. I even spotted the rings around the planet Saturn!
I did think that it would be amazing if we could camp out at 10,000 feet, lie in a tent with an open top and be mesmerized by those stars. But in reality it was extremely cold and windy up there. While hiking to get a great sunset view, there were several times when I felt as if I could be blown away.
For those with strong hearts, you may want to drive up to the summit (14,000ft) to view the astronomical research facilities, giant telescopes and get a great view of sunset and sunrise. Do bear in mind though that the air is thin up there and there is a high likelihood of getting altitude sickness as a result of the rapid ascent from sea level to 14,000ft in 2hrs. It is not recommended that children under 16 proceed beyond the Visitor Station at 10,000ft.
Braving the cold was all worth it! Just don't forget your cold wear if you plan to visit.
The Milky Way!
In conclusion, we really had a great time in Hawaii! The food, shopping and our encounters with nature and the raw natural beauty of the Hawaiian islands certainly made for a memorable trip.